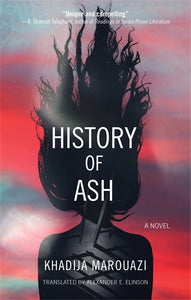 History of Ash: A Novel
Translated By Alexander E. Elinson
An unforgettable and eviscerating novel of human frailty, brutality, and resistance as told through the first-person prison narratives of a man and a woman
History of Ash is a fictional prison account narrated by Mouline and Leila, who have been imprisoned for their political activities during the so-called Lead Years of the 1970s and 1980s in Morocco, a period that was characterized by heavy state repression.
Moving between past and present, between experiences lived inside the prison cell and outside it, in the torture chamber and the judicial system, and the challenges they faced upon their release, Mouline and Leila describe their strategies for survival and resistance in lucid, often searing detail, and reassess their political engagements and the movements in which they are involved.
Written with compassion and insight, History of Ash speaks to human brutality, resilience, and the power of the human spirit. It succeeds in both documenting the prison experience and humanizing it, while ultimately holding out the promise of redemption through a new generation.
---
We Also Recommend