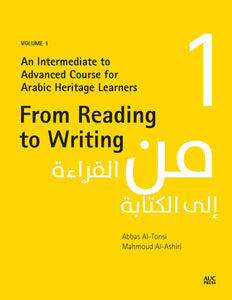 From Reading to Writing, Volume 1: An Intermediate to Advanced Course for Arabic Heritage Learners
Abbas Al-Tonsi and Mahmoud Al-Ashiri
Ôªø A new comprehensive approach to teaching Arabic reading and writing skills to heritage students at the intermediate and advanced levels

From Reading to Writing, Volume 1 is a content- and task-based textbook for students of Arabic as a heritage language at the intermediate and advanced levels, aimed at developing learners' basic language skills, especially reading and writing. Although heritage learners can often communicate in colloquial Arabic through exposure to the spoken language at home or in their country of residence, they equally as often face fundamental problems in reading and writing, as well as in speaking Modern Standard Arabic. Through authentic texts, carefully chosen to represent the lived realities of the language, supported by a range of tasks, this book seeks to develop heritage learners' communication skills to meet the practical requirements of university study and the modern-day workplace. The topics covered also offer intellectually stimulating content to learners while connecting them in a meaningful way to Arab culture and society.

The authors developed the course content with their students for over a decade and have designed the tasks in this book with the notion that language acquisition is not just a set of rules but an interactive process that depends on performing different tasks in multiple contexts. The tasks include prereading and intensive reading activities; comprehension questions; writing, listening, and grammar exercises; and vocabulary building, as well as higher-order questions designed to promote critical thinking skills. The majority of the writing and listening tasks focus on group work to encourage students to collaborate and engage in the learning process.

From Reading to Writing, Volume 1 is also suitable for foreign-language learners of Arabic at the intermediate and advanced levels and native Arabic speakers enrolled at Arab universities.
---
We Also Recommend