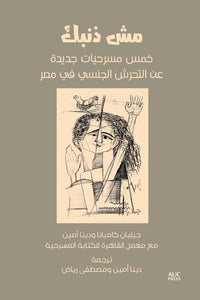 It's Not Your Fault (Arabic edition): Five New Plays on Sexual Harassment in Egypt
Jillian Campana, Dina Amin, and The Cairo Writers Lab
A collection of original short plays that focus on sexual harassment and assault in Egypt, by debut Egyptian playwrights

These five original short plays, written by Egyptian students from the American University in Cairo in collaboration with Jillian Campana and Dina Amin, mark the first published plays in Egypt that deal directly with sexual harassment. Sexual crimes are not limited to the workplace or the street—they happen everywhere, from the bedroom to the café, in shops, on modes of transportation, and in businesses, homes, outdoor areas, and educational and religious institutions. They can be perpetrated by a stranger, acquaintance, friend, family member, or loved one and they can encompass many different types of sexual violence, including verbal, non-verbal, physical, or visual violence.

This collection breaks social taboos by offering dramatic texts that reflect the reality of survivors of sexual harassment from multiple perspectives—families and couples, bystanders, victims and perpetrators, men and women. Many of the women portrayed in these plays are independent, educated, and well to do, but they are all subjected to varying degrees of sexual harassment and violence. Accompanied with narrative commentary that places the events in context, these plays and the issues they explore seek to challenge dominant perceptions about sexual harassment in the region and to shine light on the power imbalances and disparities that give rise to it. They will be of interest to artists, social science researchers, educators, and anyone interested in the issue of sexual harassment, and collaborative theater processes.

Playwrights: Yehia Abdelghan, Marwan Abdelmoneim, Nour El Captan, Passant Faheem, Nour Ibrahim, Noran Morsi, and  Omar Omar

The research on which this book is based has been shortlisted by the Times Higher Education 2023 MENA Awards for Best Research Project. Performances of these plays are royalty free.
---
We Also Recommend