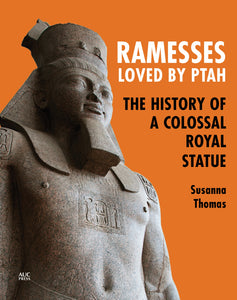 Ramesses, Loved by Ptah: The History of a Colossal Royal Statue
Susanna Thomas
The dramatic story behind the 3,200-year-old colossal Grand Egyptian Museum Ramesses statue

King Ramesses II ruled Egypt for an extraordinary sixty-six years (1279–1213 BC) during the Nineteenth Dynasty. A great warrior and lavish builder, he fathered dozens of children and is widely regarded as the most celebrated and powerful pharaoh of the New Kingdom.

This wonderfully clear, engaging book recounts the dramatic history of the famed red granite colossal statue of Ramesses II now residing in Egypt's Grand Egyptian Museum. One of the biggest statues ever made and part of the urban landscape of modern Cairo, the statue lent its name to Ramses Square and the city's mainline train station, and was so much a symbol of Cairo that it featured in countless Egyptian films. Susanna Thomas recounts the full history of the statue's creation and installation in the Great Temple of Ptah at Memphis during the reign of Ramesses II, its reuse by Ramesses IV, and the later history of the statue during the Greco-Roman and Islamic Periods.

The book also provides an overview of how statues were made in ancient Egypt and includes a brief discussion of the statue cults of Ramesses II, kingship, temples, and the expansion of the New Kingdom capital city of Memphis and its temples. The final section covers the history of the statue since its rediscovery and subsequent rescue in the mid-nineteenth century until its installation in the entrance hall of the Grand Egyptian Museum in Giza.

Written by a New Kingdom specialist and curatorial expert and illustrated with over 130 images, Ramesses, Beloved by Ptah tells the fascinating story of this magnificent statue within the wider context of statue cults and the reign of Ramesses II, and its subsequent rescue and restoration in modern times.
Read an excerpt here.
---
We Also Recommend