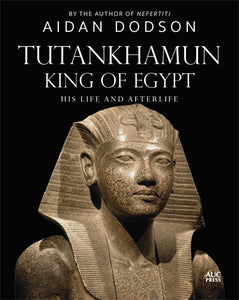 Tutankhamun, King of Egypt: His Life and Afterlife
By Aidan Dodson
An innovative account of the life of Tutankhamun, the rediscovery of his existence, and the enduring impact of the finding of his tomb, by leading Egyptologist Aidan Dodson
The spectacular discovery of Tutankhamun's tomb in 1922 has given him an afterlife that has all but eclipsed the young king's real career. This authoritative yet accessible book tells the story of Tutankhamun, from his own lifetime in the fourteenth century BC, down to modern times. It explores the various theories as to his parentage, his role in the 'counter-reformation' that followed the religious revolution of Akhenaten, and his premature death. It also looks at the monuments built during the king's reign, his key officials, and the arrangements made for his funeral.
Moving forward in time, Tutankhamun, King of Egypt considers the way in which Tutankhamun was written out of official history. The story is then picked up again in the early nineteenth century AD when, with the first decipherment of hieroglyphs, Tutankhamun's name could once again be read, and the problem of his place in history considered by Egyptologists. Aidan Dodson traces possible solutions through the decades as more and more data came to light, culminating in the discovery of the king's tomb. Yet, dazzling as that discovery was, many matters regarding Tutankhamun remain obscure today, even with the aid of genetic data. Dodson also looks at how the discovery of Tutankhamun's tomb brought about the first of many outbreaks of "Tut-mania," and explores some of its manifestations.
Richly illustrated in full color throughout, this fascinating book by a leading Egyptologist will be essential reading for anyone interested in the life and enduring legacy of ancient Egypt's most famous king.
---
We Also Recommend