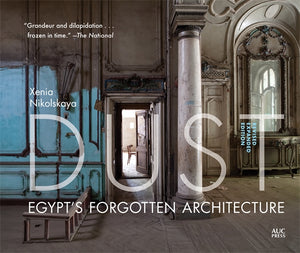 Dust: Egypt's Forgotten Architecture, Revised and Expanded Edition
ÔªøXenia Nikolskaya
A stunning photographic compilation of Egypt's abandoned palaces and grand buildings
Between 1860 and 1940, Cairo and other large cities in Egypt witnessed a major construction boom that gave birth to extraordinary palaces and lavish buildings. These incorporated a mix of architectural styles, such as Beaux-Arts and Art Deco, with local design influences and materials. Today, many lie empty and neglected, rapidly succumbing to time, a real-estate frenzy, and an ongoing population crisis.
In 2006 Russian-born photographer Xenia Nikolskaya began the process of documenting these structures. She gained exceptional access to them, taking photographs at some thirty locations, including Cairo, Alexandria, Luxor, Minya, Esna, and Port Said. These photographs were documented in the first edition of Dust: Egypt's Forgotten Architecture, which soon after its release in 2012 became a rare collector's item.
This revised and expanded edition includes photographs from the first edition together with extra unseen images and new photographs taken by Nikolskaya between 2013 and 2021. It also includes previously unpublished essays by Heba Farid, co-owner of the Cairo-based photo gallery Tintera, and architect and urban planner Omar Nagati, co-founder of CLUSTER, an urban design and research platform also in Cairo.
Dust: Egypt's Forgotten Architecture leads us seductively into some of the most breathtaking architectural spaces of Egypt's recent past, filled with a sense of both the immense weight and impermanence of history.
Click here for an excerpt.
 
---
We Also Recommend