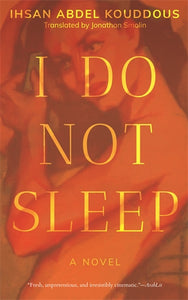 I Do Not Sleep
Ihsan Abdel Kouddous
Translated By Jonathan Smolin

A story of betrayal, desire, and family drama, written by a giant of Egyptian popular fiction who shocked readers in the 1950s when this Lolita-esque novel first appeared and whose work has never before been available in English
Sixteen-year-old Nadia had been raised by her father, after her parents divorced when she was only a baby. Indulged and petulant, she remained the only female in her father's life. But when she returns from boarding school to find that he has remarried without her knowledge, she conspires to restore her rightful place, creating misery, confusion, and a flood of unexpected consequences in her wake.
Written as a letter, a confession, by now twenty-one-year old Nadia, Ihsan Abdel Kouddous's classic novel of revenge and betrayal challenges patriarchal norms with its strong female characters and brazen sexuality, and continues to speak to the complex human condition. It dives into middle-class life, and lays bare the repressed desires, seething jealousies, and complicated dramas of family.
To read an excerpt, click here.
---
We Also Recommend