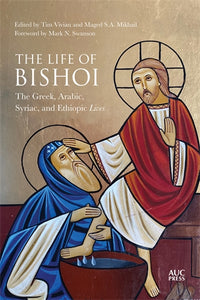 The Life of Bishoi: The Greek, Arabic, Syriac, And Ethiopic Lives
Edited By Tim Vivian
Maged S.A. Mikhail
Four translations of major accounts of the life of the fourth-century Egyptian desert father St. Bishoi, in one volume
Saint Bishoi of Scetis (d. ca. 417) enjoys tremendous popularity throughout the Christian east, particularly among the Copts. He lived during a remarkable era in which a litany of larger-than-life monastics lived and interacted with one another. Even then, Bishoi stood out as the founder of one of the four great monasteries of Scetis (Wadi al-Natrun): those of Macarius, John the Little, Bishoi, and the Baramus. Yet in spite of Bishoi's prominence, the various recensions of his hagio-biography have received sporadic, scattered attention.
The Life of Bishoi joins other Lives of eminent monastics of early-Egyptian monasticism: the Lives of Antony, Daniel, John the Little, Macarius, Paphnutius, Shenoute, and Syncletica. These Lives are vital for what they tell us about monastic politeia (way of life), spirituality, and theology, both of the early monastics and of those who later wrote, translated, and revised the Lives. They appeared first in Greek and Coptic, and later generations translated and revised them into Syriac, Arabic and Ge'ez (Ethiopic).
This definitive volume contains the first English translation of the Greek, Syriac, Arabic, and Ethiopic Lives of Bishoi, each translation accompanied by an introduction that focuses on certain aspects of the source text. It also has the first transcription and English translation of an important Greek text. The General Introduction provides rich context about the texts and textual traditions in the various languages, and thoroughly revises our knowledge about the Syriac tradition, the translation of the Syriac text here now consequently providing what is the best translation in any modern language.
To read an excerpt, click here.
---
We Also Recommend