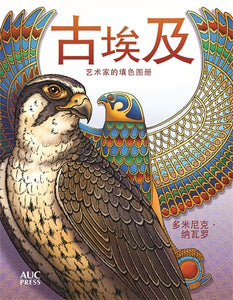 Ancient Egypt (Chinese edition): An Artist's Coloring Book
Dominique Navarro
Embark on a colorful journey to reveal a hidden Egypt! Explore Egyptian gods, animals, hieroglyphs, designs, and more as you color the elaborate artwork, revealing vibrant details while learning unusual Egyptology facts and coloring tips along the way.
Learn about ancient Egypt color theory, including the history of primary colors in the Egyptian palette, their meaning and symbolism, to inspire your own artistic coloring choices. Use your imagination to color, or follow the suggestions accompanying each art panel, including techniques for adding texture, shading, and depth to your artwork.
Ancient Egypt is filled with beautifully detailed, inspiring artwork and designs to color, frame, and display in your home. Transform and personalize the black-and-white line drawings into your own unique and colorful art. Appealing to all ages, ideal for adults to unwind and relax, and fun to share with the whole family.
Chinese Edition
---
We Also Recommend