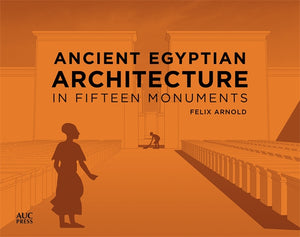 Ancient Egyptian Architecture in Fifteen Monuments
Author Felix Arnold
An authoritatively written overview of ancient Egyptian architecture from the point of view of an archaeologist and architectural historian
The monuments of ancient Egypt have held scholars and tourists in their thrall for centuries. The sheer mass of the pyramids of Giza, the interaction of the temples at Deir al-Bahari with the natural environment, and the use of light in the hypostyle hall of Karnak all make these buildings world-class masterpieces of architecture, rivaling those of Greece and Rome.
Ancient Egyptian Architecture in Fifteen Monuments presents an authoritative overview of Egyptian architecture from the point of view of an archaeologist and architectural historian with decades of fieldwork experience in Egypt and elsewhere. It focuses on fifteen selected masterpieces, from well-known structures such as the Bent Pyramid in Dahshur and the temple of Horus at Edfu to lesser-known monuments in Hierakonpolis, Abydos, Hawara, and Bubastis, each building representing an important stage in the development of Egyptian architecture and a different vision of what architecture should aspire to achieve.
Using sixty reconstruction drawings and black-and-white photographs, Felix Arnold presents new insights into form, meaning, and the organization of space, providing a fresh perspective on ancient Egyptian culture and society.
---
We Also Recommend