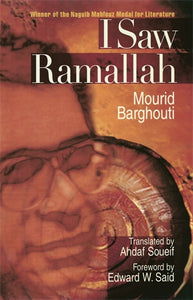 I Saw Ramallah
Mourid Barghouti
The first narrative work of the well-known Palestinian poet Mourid Barghouti is an autobiographical memoir about the ironies of homecoming. The bridge that Barghouti crosses as a young man leaving his country in 1966 to pursue university studies in Cairo is the same bridge that he uses to cross back in 1996 after thirty long years in the Diaspora.
I Saw Ramallah is about home and homelessness. The harrowing experience of a Palestinian, denied the most elementary human rights in his occupied country and in exile alike, is transformed into a humanist work. Palestine has been appropriated, dispossessed, renamed, changed beyond recognition by the usurpers, yet from the heap of broken images and shattered homes, Barghouti repossesses his homeland.
Awarded the 1997 Naguib Mahfouz Medal for Literature.
---
We Also Recommend