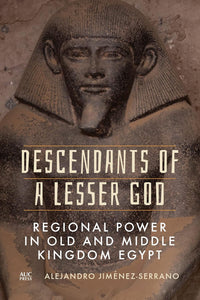 Descendants of a Lesser God Regional Power in Old and Middle Kingdom Egypt
by Alejandro Jiménez-Serrano
A new perspective on the dynamics of dynastic rule in the southernmost province of Egypt, from the Old Kingdom to the New Kingdom

The First Upper Egyptian nome, with its capital, Elephantine, was important in ancient times, as it stood on the southern border between Egypt and the Nubian provinces above the First Cataract. Since 2008, Alejandro Jiménez-Serrano has led an archaeological mission at the necropolis of Qubbet el-Hawa, where Elephantine's high officials are buried. In Descendants of a Lesser God, he draws on textual records and archaeological data, together with new evidence from his work at the tombs, to cast fresh historiographical light on the dynastic dynamics of these ruling elites.

Jiménez-Serrano analyzes the origin of the local elites of Elephantine, and their role in trade and international relations with Nubia and neighboring regions, from the end of the Old Kingdom to the end of the Middle Kingdom. He explores the development of these power groups, organized as they were in complex households, which in many ways emulated the functioning of the royal court. Delving deeply into the funerary world, he also highlights the relationship between social memory and political legitimacy through his examination of the mortuary cult of a late Old Kingdom governor of Elephantine, Heqaib, who was transformed into a local divinity and later claimed as the mythic ancestor of the ruling family of Elephantine.

The history of ancient Egypt has traditionally been written from a court perspective. This new history of a strategically important region not only modifies existing perceptions of provincial life in the Middle Kingdom among the elites, but also introduces new evidence to support more complex and detailed reconstructions of the dynastic families in power.
---
We Also Recommend