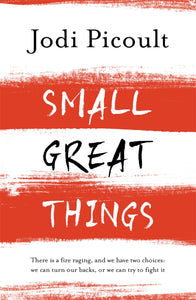 Small Great Things: The bestselling novel you won't want to miss
Jodi Picoult
A RICHARD AND JUDY BOOK CLUB 2017 PICK
A SUNDAY TIMES BESTSELLER
A NEW YORK TIMES BESTSELLER

The best books make you see differently. This is one of them. The eye-opening new novel from Jodi Picoult, with the biggest of themes: birth, death, and responsibility.

When a newborn baby dies after a routine hospital procedure, there is no doubt about who will be held responsible: the nurse who had been banned from looking after him by his father.

What the nurse, her lawyer, and the father of the child cannot know is how this death will irrevocably change all of their lives, in ways both expected and not.

Small Great Things is about prejudice and power; it is about that which divides and unites us.

It is about opening your eyes.

SOON TO BE A MAJOR FILM STARRING VIOLA DAVIS AND JULIA ROBERTS

MAD HONEY, the stunning and compelling Sunday Times bestseller by Jodi Picoult and Jennifer Finney Boylan is available now.
---
We Also Recommend