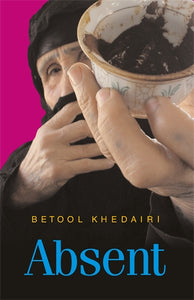 Absent
Betool Khedairi
Absent tells the story of Dalal, a young Iraqi woman living with the childless aunt and uncle who raised her. Dalal and her neighbors try to maintain normal lives, despite the crippling effect of bombings and international sanctions resulting from the first Gulf War. By turns affectionate, wry, and darkly comic, Absent paints a moving portrait of people struggling to get by in impossible circumstances. Upstairs, the fortune-teller Umm Mazin offers her customers cures for their physical and romantic ailments; below, Saad the hairdresser attends to a dwindling number of female customers; and on the second floor, the nurse Ilham dreams of her long-lost French mother to escape the grim realities she sees in the children's ward at the hospital.

With memories of happier times during the "Days of Plenty" of her childhood, Dalal falls in love for the first time against a background of surprise arrests, personal betrayals, and a crumbling social fabric that turns neighbors into informants.

Tightly crafted and skillfully told, Absent is a haunting portrait of life under sanctions, the fragile emotional ties between individuals, and, ultimately, the resilience of the human spirit.
---
We Also Recommend