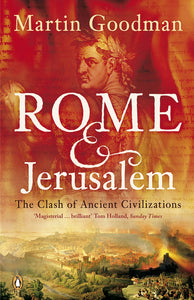 Rome and Jerusalem: The Clash of Ancient Civilizations
Martin Goodman
In Rome and Jerusalem: The Clash of Ancient Civilizations, Martin Goodman explores the history of a titanic struggle whose repercussions are still felt today. In 70CE, after four years of Jewish rebellion, Roman legions devastated the great city of Jerusalem. Sixty years later, its ruin was completed when Emperor Hadrian built a new city on top of it that Jews were forbidden even to enter.
In this highly acclaimed book, Martin Goodman examines the background and course of this titanic conflict - from the political ambitions of Roman military leaders to the spread of Christian influence through the empire - and its lasting consequences. 'In this remarkable book Martin Goodman casts a truly fresh eye over well-known figures and events' History Today 'Important and powerfully expressed …
The best available general account of a turning point not just in the history of the Roman Empire but also in the development of the modern West' Simon Goldhill, The Times Higher Education Supplement 'Should be read by anyone seeking seriously to understand modern Middle Eastern tangles ... a lucid account of ancient tragedy' Diarmaid MacCulloch, Guardian 'Splendid ... an important book, on a difficult subject : the reason why Romans sought to destroy the Jews and Judaism completely.
Only one man would have written it' Paul Johnson, Tablet Martin Goodman has divided his intellectual life between the Roman and Jewish worlds. He has edited both the Journal of Roman Studies and the Journal of Jewish Studies. He has taught Roman History at Birmingham and Oxford Universities, and is currently Professor of Jewish Studies at Oxford.
---
We Also Recommend