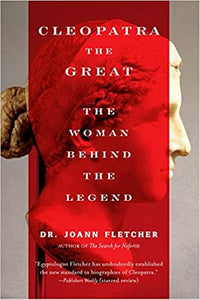 Cleopatra the Great: The Woman Behind the Legend
Joann Fletcher
World-Renowned Egyptologist Dr. Joann Fletcher offers an unparalleled look at one of history's most fascinating leaders—Politician, Mother, and Goddess—the legendary Cleopatra.
The subject of myth for more than two millennia, Cleopatra was a woman of passion, magnetism, and political genius, the last and greatest Egyptian pharaoh. In this mesmerizing biography, Egyptologist Joann Fletcher draws on a wealth of newly discovered information and research to reveal this vital woman as she truly was, from her first meeting with Julius Caesar to her legendary death by snakebite.
Cleopatra the Great tells the story of a turbulent time and the extraordinary woman at its center. A polymath monarch, she was also a potent combination of traditionalist and innovator, astute enough to realize what was necessary for Egypt's continued prosperity and sufficiently ruthless to allow nothing to stand in her way.
Yet our understanding of Cleopatra has been obscured by Roman propaganda, Shakespearean tragedy, and Hollywood glamour. Cleopatra the Great pieces together the pharaoh's ancient world with details about her massive library and infamous banquets, her relationships with both Julius Caesar and Mark Antony, and her skillful use of fashion and style to further her ambitions and her mystique. Intelligent and compulsively readable, here is an unparalleled biography worthy of its subject.
---
We Also Recommend